Product Description
Heavy Duty plumbing pipe two level wall shelf kit is an industrial looking shelf made from iron plumbing pipe. This wall shelf is made from 1/2″ BSTP threaded 22mm outside diameter plumbing pipe components finished in standard galvanised, flat black painted or black steel finish plumbing pipe.
This shelf is designed to withstand a weight of 20 to 30 kilos per shelf. If mounting to a cavity wall, be sure to attach to as many screws as possible into the timber studs. The shelf is designed for many uses, from putting up alcoholic spirits, to integrating plant features.
This shelf is designed to carry two shelves that simply sit on the cross bars using gravity. They are locked into position due to the fact that they are built onsite with pipe uprights going through every shelf.
The shelves are located via 22mm holes and are to be installed whilst constructing the pipe uprights.
A diagram and instructions are supplied with this kit.
Each shelf kit requires at least two upright assemblies. Most shelf units are comprised of 3 or more uprights, but here you have a choice of two or three uprights as a calculated product. If you require 4 then order two "two uprights". If you need 5 then order one "two uprights" and one "three uprights" on the order. You can specify the length from the top and bottom shelf to the upper and lower flanges.
Components included
As a DIY kit this product includes this number of parts per upright.
The Shelf
Timber and glass shelves are not included. We can supply some shelf components (see below)
The standard distance between each shelf (B) is 435mm and the overall distance from the wall is 305mm. The standard pipe used is suitable for a shelf depth (A) of 300mm. The total width of the shelf is determined when installing uprights. We recommend the distance between the uprights  not to exceed 1000mm. To make a wider unit than this, use 3 uprights.
Galvanised saddles and screws are supplied with our wall shelf kit. These screw to the underside of the timber shelf to stop sideways motion.
The shelf pipework can be assembled by hand and without the use of special tools. Screws are provided for timber, plaster and brick wall surfaces. Note the surface being attached to, and the screws being used, will determine the weight load of the shelf itself.
The standard distance between each shelf top is 435mm. (B) This can be customised when ordering. Be aware that this will alter the whole unit height.
The standard distance from the wall using a 300mm timber shelf is 305mm. (D) This leaves a 5.0mm gap behind the shelf. If you wish your shelves to be close to the wall, make your timber shelves 305mm deep.
A custom shelf depth can be included when placing the order to make as required.
In addition to shelf height, you can alter the top (C) and bottom support pipe lengths. (A)
To make it simple all these dimensions added together will make up a total height.  A+C+B
We will cut and thread to accommodate the threaded overlaps.
This fitting is built by hand one shelf at a time insitu. Flange screws are provided for timber, plaster or brick. This design can take quite a load but specific capacity is determined by the shelving material and the distance between uprights. For greater load-bearing, place uprights closer together.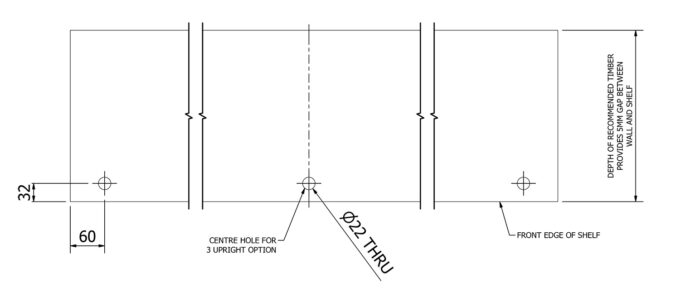 Custom dimensions
The shelf depth and distance between the shelves can be customised in the options selection.
Hardware supplied
The pipe components are supplied for this DIY kit as partly assembled and labelled.
All Galvanised fittings and pipe are cleaned of oil and scrubbed to a reasonable degree. This makes sure no oil remains internally that can weep after assembly.
All Raw steel fittings and pipe are cleaned of mineral oils and prepared with a light coating of Linseed oil. You should re-apply as needed to prevent rusting.
Painted pipework and fittings are cleaned to remove mineral oil and spray coated with primer and then final colour. These are left to dry for 24 hours and inspected prior to shipping.