Product Description
Industrial plumbing pipe four level floor shelf kit is an industrial looking shelf unit made from plumbing pipe. This large floor shelf is made from vintage style plumbing components and is finished in standard galvanised or black steel finish plumbing pipe. Designed to withstand a reasonable weight, this shelf is designed for many uses, from storing boxes and books, to plant feature stacking. This shelf will turn your everyday storage space into a main feature of the room.
The shelf is attached to the wall and floor by means of decorative steel, or plain galvanised flanges. The floor connection takes the weight and the wall connection holds it in place. The shelves are located via 22mm holes and are to be installed whilst constructing the pipe.
A diagram and instructions are supplied with this kit.
Each shelf kit requires at least two upright assemblies. Most shelf units are comprised of 3 uprights, but here you have a choice of two or three uprights as a calculated product. If you require 4 then order two "two uprights". If you need 5 then order one "two uprights" and one "three uprights" on the order. You can also specify the height of the bottom shelf away from the floor.
The example pictured is a 3 upright, black steel floor shelf, with hardwood shelves 1800mm long x 235mm deep. Holes 22mm diameter are drilled 31mm from the front edge of the shelf. The height is 1525mm to the centre of the top flange. The shelves are 285mm apart with the bottom shelf 480mm from the floor. It uses a hardware-store supplied standard shelf depth of 235mm and "floats" at a distance of 20mm from the wall. This gap helps alleviate such problems as a wall that is not perfectly straight or plumb. To create a shelf unit that touches the wall you will need a shelf cut to 250mm depth.
Components included
A standard DIY kit this product includes this number of parts per upright. The default shelf is made from pre-manufactured standard pipe lengths.
The Shelf
Timber components are not included in this product. The dimensions for our default product design should be a width of 235mm x 19mm thick, which is a standard hardware shelf size. This allows the shelf supports and shelf to remain 20mm from the wall. The hole required for the pipe to travel through is 22mm diameter and is 31mm from the front edge. This can be hardwood, pine, or plywood. We recommend a maximum distance between uprights of 1000mm but shelf material and requirements can allow for greater support widths.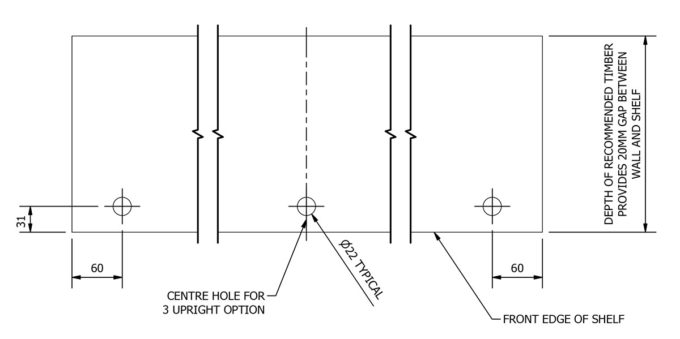 Custom shelf dimensions
The standard distance between each shelf top is 285mm. (B) This can be customised when ordering. Be aware that this will alter the whole unit height.
The standard distance from the wall using a 235mm timber shelf is 255mm. (D) This leaves a 20mm gap behind the shelf. If you wish your shelves to be close to the wall, make your timber shelves 255mm deep.
A custom shelf depth can be included when placing the order to make as required.
In addition to shelf height, you can alter the top (C) and bottom support pipe lengths. (A)
To make it simple all these dimensions added together will make up a total height.  A+C+(3 X B)
We will cut and thread to accommodate the threaded overlaps.
This fitting is built by hand one shelf at a time insitu. Flange screws are provided for timber, plaster or brick. This design can take quite a load but specific capacity is determined by the shelving material and the distance between uprights. For greater load-bearing, place uprights closer together.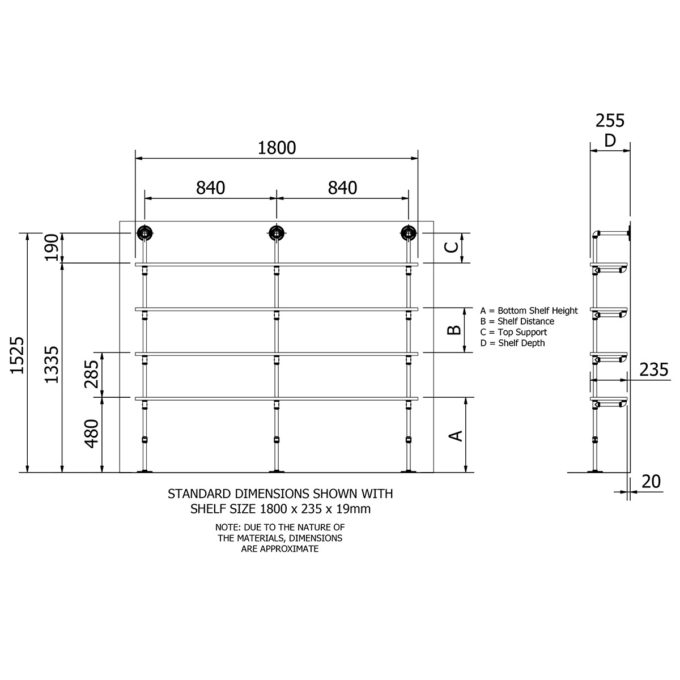 Hardware supplied
The pipe components are supplied for this DIY kit as partly assembled and labelled.
All parts will be cleaned of machine oil.
Black steel will be coated with a layer of Linseed oil and allowed to dry.
Galvanised parts are cleaned and scrubbed prior to assembly.
Painted surface is a hard wearing flat black coating that is designed for automotive under body application.